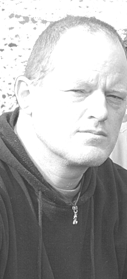 A little bit of self-indulgence never hurts, I guess...:)
It's hard to say what each of us does when doing stuff for Embrace The Void, because we both do a little bit of everything actually....which makes it the fun it is.
But to narrow it down a little bit;
I play guitar, do backing vocals every once in a while, write lyrics, compose music and do a lot of the arranging.
Some of the stuff that I use:

The Pod XT from Line 6
Fernandes and Ibanez guitars, and an occasional Fender Stratocaster (I really ought to get my own Strat one of these days, by the way...)
Akai DPS16. This recorder is already a couple of years old, but it does a great job.
I write out music with Lilypond. You don't have to be a geek to use this really wonderful piece of software, but it doesn't hurt either...:) Plus it is free, as in 'beer' and in 'speech'.
Everything non-audio at my place is done on Slackware.
About the audio-side of things, I'll probably have to keep you posted on that subject in another place.
If you would ask me about influences, I really couldn't tell you. I listen to a great variety of music, and you'll find many totally different kinds of music in my record collection.
It's all music to me, and it all goes into the big melting pot in my head. I tend to like some combination of roughness, heaviness or intensity and melody or an abstract kind of 'higher layer'.
Some music that i really like, or that I consider my personal 'roots' in some cases, are by the following:

Frank Zappa
Meshuggah
Black Sabbath
Jimi Hendrix
Beatles
Ramones
Dmitri Shostakovich
King's X
Steve Morse
Claude Debussy
Igor Stravinsky